We are an organic importer. All our flours and berries/grains are free from artificial chemicals and pesticides.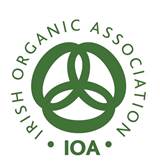 Licence no. 8086
Certified Organic
Dear bakers
We are delighted to be partnering with Oak Forest Mills and are now stocking their range of 100% Irish grown stoneground flours and berries/grains: including white and wholemeal wheat and spelt flours and a range of berries/grains.
We can courier a maximum of 29kg of flour to you in one order for €6.95 delivery, eg if you are ordering a 25kg sack of strong white flour, you can add 4kg of small bags of flour to your order. You can purchase unlimited amounts of baking equipment with a 29kg flour order, at no extra delivery cost.
For deliveries to Northern Ireland, please enter the UK as the country for your billing address and Ireland as your country for your delivery address and then your county and postcode, to ensure you do not incur an increased delivery charge. Due to Brexit, we no longer ship to England, Wales or Scotland.
If you need further information, please don't hesitate to contact us.
We wish you well with your baking!
Julie & Joe